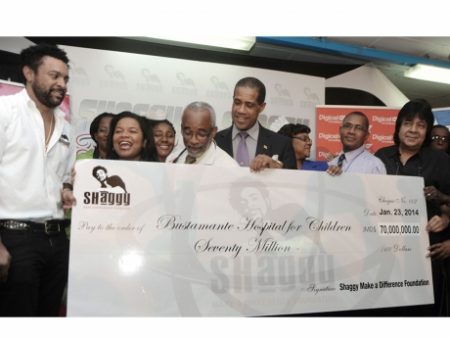 The Bustamante Hospital For Children have received a gigantic boost in their efforts to upgrade their facility after receiving JA$70 million in donations and proceeds from this year's Shaggy and Friends charity concert, more than doubling the previous records.
A check for the hefty dollar amounted was presented by Shaggy's Make a Difference Foundation during a press conference at the Kingston-based hospital Thursday night. Shaggy spoke excitingly about the announcement.

"This last concert, being our fourth installment of Shaggy and Friends, has been our biggest one yet and we couldn't have done it without the help of our sponsors," the Grammy-winning singer said during the conference. "There was a lot going on this year especially with The Voice and I wouldn't have gone through with this if I didn't know that I was working with some very confident people."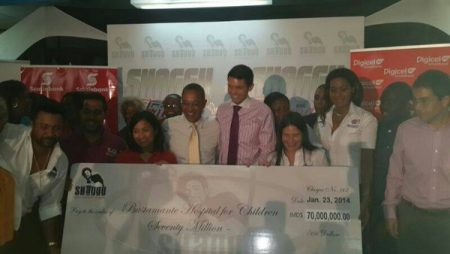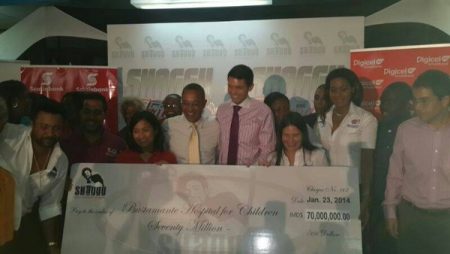 The inclusion of highly-regarded Jamaican singer and The Voice winner, Tessanne Chin on the bill surely had something to do with the record turnout at the lawns of Jamaica House, with close to 10,000 people attending the show, according to Shaggy. Other main acts at the event included fellow competitor on The Voice, Matthew Schuler as well as Damian 'Jr. Gong' Marley, Chronixx, Jah Cure, Admiral Bailey, Carlene Davis and many more.
Money raised from the show will go towards finishing the building a full cardiac wing at the hospital, which was reportedly near completion in December.
The JA$70 million amount more than doubles the JA$32 million raised by the last Shaggy and Friends show in January 2012. Previous editions of the show raised JA$27 million and JA$30 million in 2009 and 2010 respectively.