Shaggy Make A Difference Foundation Shaggy and Friends Concert Fundraiser Hosts Twitter Party, Saturday, January 4, 2014 6-8pmET — Shaggy and Friends is an annual concert fundraiser benefitting the kids and their families at the Bustamante Hospital in Kingston, Jamaica. In an effort to broaden the outreach and awareness of the needs of the Hospital, the Foundation has decided to leverage the power of social media to elevate the visibility of how viewers and patrons can support the Hospital.
WHO: Jamaicans, their family and friends attend Shaggy and Friends Concert LIVE at Jamaica House and online to VIEW A FREE LIVE STREAM across the world at facebook.com/DigicelJamaica, shaggyfoundation.org, Jamaica-Gleaner.com/jamaica-gleaner.com/teamshaggy4kids, jamaicaobserver.com/teamshaggy4kids
WHAT:Twitter Party to raise awareness about the needs at the Bustamante Hospital for Children and to inspire financial donations to meet these needs for the kids receiving care from the hospital in Kingston, Jamaica
WHEN: At Jamaica House and LIVE ONLINE on Twitter, Facebook and Instagram on Saturday, January 4, 2013, 6-8pm ET FREE LIVE STREAM of Shaggy and Friends concert begins at 8pm ET
HOW: To participate in Twitter Party: Follow #TeamShaggy4Kids and note the following script and tips to maximize your experience and support:
1. Use hashtag #TeamShaggy4Kids in every single tweet. No matter what you say or respond to, please use the hashtag. The only way to get the hashtag trending is for lots of people to use it as often as possible.
2. Please Tweet often but not in rapid succession or you may end up in "Twitter jail", i.e., being blocked out of Twitter for a time period and then can't tweet.
3. Retweeting helps too. So don't be afraid to retweet. Just retweet tweets that include the hashtag #TeamShaggy4Kids.
4. Try to ask your followers questions that encourage them to respond and tell them to use the hashtag #TeamShaggy4Kids
Here is the intended party script schedule for the evening:
6-6:15pm: Tell us what city you are checking into this #TeamShaggy4Kids Twitter Party from. Use the hashtag #TeamShaggy4Kids
6:15 – 6:30pm: Shaggy and Friends is a #charity concert for #kids. Name and shout out the artistes giving their time for the cause. Use the hashtag #TeamShaggy4Kids
6:30 – 6:45pm: TeamShaggy4Kids The cause is Bustamante Hospital for Children. You can help. Here's how you can donate (and share how to donate flyer attached). If you are @Digicel_Jamaica @Scotiabank, @FoodforthePoor, @JamaicaNationor @CapitalOne you can share your own info.
6:45 – 7:00pm: Tell us where you are watching @shaggynfriends tonight. At Jamaica House? Or online and in which city? Use the hashtag #TeamShaggy4Kids.
7:00 – 7:15pm: Tell us your connection to Bustamante Hospital – learn about their needs and how your donation will help. Use the hashtag #TeamShaggy4Kids.
7:15 – 7:30pm – Dedicate your favorite song of one of the artists on the bill of tonight's concert to the kids of Bustamante Hospital. Use the hashtag #TeamShaggy4Kids.
7:30 – 7:45pm: Tell us why you are donating tonight – the reason and motivation. Use the hashtag #TeamShaggy4Kids.
7:45 – 7:55pm: Tell us your wish for the kids of Jamaica and future. What is your fave memory as a kid in Jamaica or visiting Jamaica.
Use the hashtag #TeamShaggy4Kids.
7:55 – 8pm GIVE SHOUT OUT THANKS TO ANY INVOLVED IN SUPPORTING THE KIDS. Use the hashtag #TeamShaggy4Kids.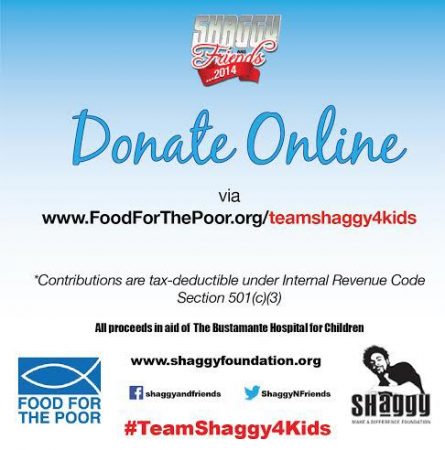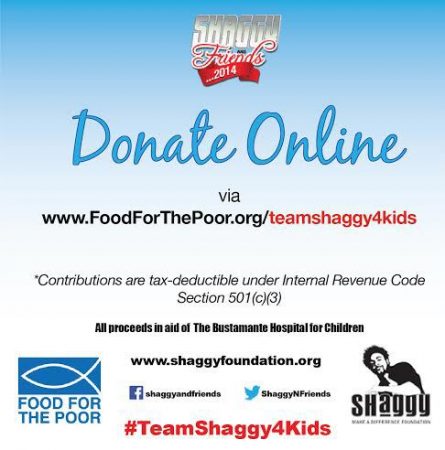 Here are the options of how to DONATE in Jamaica or from anywhere around the world to support the KIDS at Bustamante Hospital:
1. TEXT (for Digicel customers only) J$50 per text – TEXT PLEDGE to 876-444-2498
2. ONLINE – donate at www.foodforthepoor.org/teamshaggy4kids
100% tax deductible for all US donations under IRS 501(c)(3)
3. JAMAICA BANK DEPOSIT or WIRE TRANSFER – Send to any Scotiabank (Account at Scotiacenter #50765)
J$ Acct #: 801492
USD Acct #: 927180
4. USA BANK DEPOSIT or WIRE TRANSFER:
Send to Any Capital One Bank
Routing #: 021407912
Acct #: 7017148030
5. MONEY TRANSFER VIA JAMAICA NATIONAL:
Between January 2-15, send any money transfer and Jamaica National will donate an additional $1 per transfer to Foundation. Make a donation of a given amount and JN will waive transfer fees.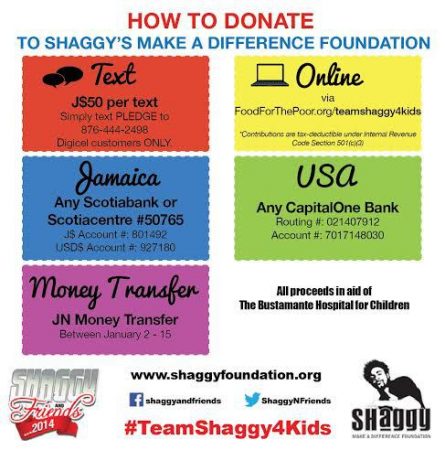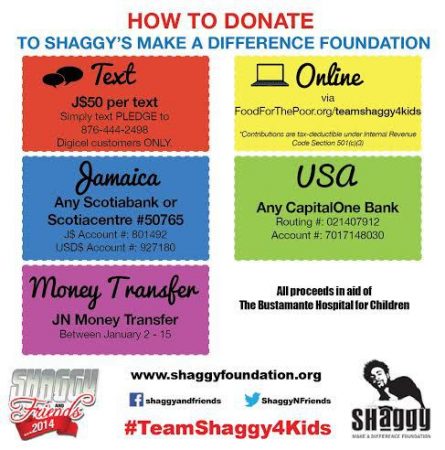 Follow @ShaggynFriends on Twitter and on
Shaggy and Friends on Facebook or visit www.shaggyfoundation.org