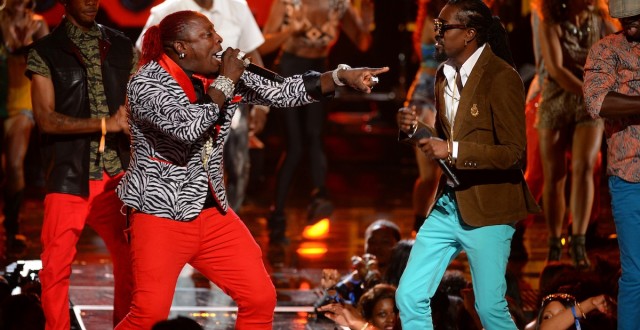 This year's best performance at the BET Awards came all the way from Jamaica in the form of Dawn Penn, Chaka Demus & Pliers, Beenie Man, and Elephant Man. It Can be said clearly that the Dancehall & Reggae Segment was the Best Performance for the Night.
Beenie Man & Elephant Man had the entire Bet Awards audience out of their seats and dancing to their songs.
The iconic reggae/dancehall stars put on a show at the Bet Awards in Los Angeles on Sunday night.
Nicki Minaj, who was sitting front row, went wild when Beenie Man took the stage.
Dawn Penn kicked things off with her classic single "No No No," before Chaka Demus & Pliers chime in with "Murder She Wrote."
The audience went wild when Beenie Man stepped onto the stage with a medley of "Sim Simma", "Girls Dem Sugar" and "Rum & Redbull."
Elephant Man closed out the surprised reggae segment with an energetic performance.
Watch the video below.