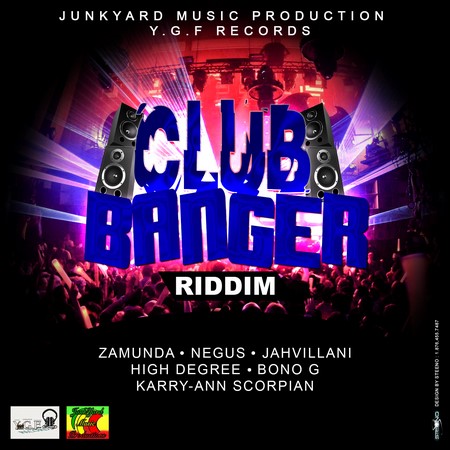 The dreamtime always precedes the summer holidays. To prepare your journey, all you need is to update your playlist with the best dancehall songs and you're good to keep dancing and feeling good until the summer. Bet you will love what you will listen on the Club Banger Riddim, the dancehall rhythm with a groovy and clubbing flavour produced by "Y.G.F. records" and "Junkyard music".
With aims of consistently raising the bar in creating the most remarkable riddim, the duet Raynado Harrison aka Steeno and Tevin Richards aka Tevino of the sparkling label Y.G.F. Records / Junkyard Music are launching a new project for the summer 2015 with the will to grab the attention of the dancehall arena worldwide .
By this official press release, Tevin Richards precises : "This project was in the making 8 months ago. "Club Banger" is a riddim (that aims) to make the body groove and invite you to the dancefloor. I wish to cement this riddim worldwide by getting it played by all clubs, radio stations and listeners.
Tracklist:
Zamunda – Rich
Jahvillani – See Mi & Dweet
Negus – Pretty Figure
Kerry-Ann Scorpian – Break Loose / Club Banger
Bono G – Free Your Soul
High Degree – Nuh Boring Gal
Junkyard Music Productions – Club Banger Riddim