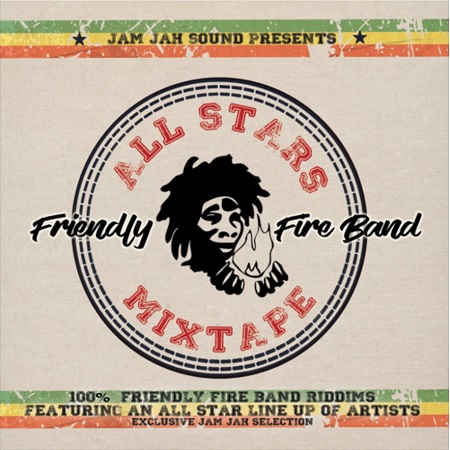 Birmingham UK's Jam Jah Sound has selected 31 tracks all played live by Friendly Fire Band and produced by R. Giorno for Friendly Fire Music, juggling between exclusive dubplates, pre-release tracks, and a handful of recent releases.
With an All Stars lineup of artists, Friendly Fire Band showcase their versatility with a wide range of styles, from Roots to One Drop to Ska to Rub A Dub, featuring new comers, established artists, and foundation veterans from the UK to Jamaica, and all voiced at Friendly Dubs dubplate service.
Expect some rare cuts, exclusive pre-releases and straight up sound killing dubs for an action packed listen from start to finish!
Soundcloud: http://soundcloud.com/friendlyfiremusic/friendly-fire-band-all-stars-mixtape-mixed-by-jam-jah-sound
Download link: (Click Buy Digital Track / enter £0.00 for free DL or make a contribution of your choice)
http://friendlyfiremusic.bandcamp.com/album/all-stars-mixtape
Tracklist:
Jam Jah Sound – Intro
Randy Valentine – Jam Jah Ganja (Dubplate)
Two Bad – Don't Tell Jam Jah bout Ganja ( (Dubplate)
Luciano – Jam Jah Raggamuffin (Dubplate)
Kabaka Pyramid – Jam Jah Defender (Dubplate)
Tomlin Mystic – Rastaman (Pre-Release)
Myki Tuff – Luv Song (Pre-Release)
Raphael – Closer (Pre-Release)
Juggernaut – Good Times (Pre-Release)
Blackout JA, Daddy Freddy, Tall Rich – Signs (Dubplate)
Mr Williamz – Saturday Night (Pre-Release)
Al Campbell – Mr Jam Jah (Dubplate)
Tippa Irie – Minibus Man (Pre-Release)
Myki Tuff – War General (Dubplate)
Prince Alla, Raphael, Dan Giovanni – Hey Little Soundbwoy (Dubplate)
Exile Di Brave – Words Have a Way
Myki Tuff – Man Like Me
Luciano & Dan Giovanni – Haffi Get a Beaten
Cali P – Jam Jah Revolution (Dubplate)
Lion Art – Run Away
Cheshire Cat – Wicked Babylon
Duane Stephenson – Tenament Yard (Pre-Release)
Tomlin Mystic – Enemy Within (Pre-Release)
Myki Tuff – Rastamantic Love (Pre-Release)
Peppery – Sipple Out Deh (Dubplate)
Selaso MC – Warrior
YT – In the Streets
Myki Tuff – Roots Reggae
Troy Berkley – Life On the Line (Dubplate)
Parly B – Out of Order (Pre-Release)
Dan Giovanni – Plants of Destruction (Pre-Release)
Lion Art – Nyabinghi (Pre-Release)



friendlyfiremusic.com
twitter.com/Robin_FF
instagram.com/Robin_Giorno
soundcloud.com/friendlyfiremusic
New Release: Friendly Fire Band: All-Stars Mixtape (mixed by Jam Jah Sound)
Out on 7/9/17