HOT STEEL RIDDIM [FULL PROMO] – DIGITAL VIBEZ ENT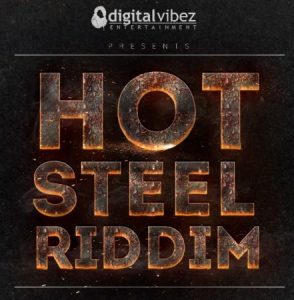 Producer and Song Writer Gary "Shanguly" Samuels and Michael "MadVibez" Thompson have delivered yet another musical gift with "Hot Steel Riddim".
Priding themselves on preserving the true essence of dancehall, Digital Vibez Entertainment productions can be best described as a modernized old school sound. Their latest "Hot Steel Riddim" demonstrates those endeavors as Grammy Award and certified triple-platinum Lady Saw "Scamma", multi-award winner Capleton "Stay Suh", Bramma "Fashion Police", up and coming artist from Capleton's David House crew Ffurious with "Out A Me Life", rising star Da'Plan "Waste A Time" and CeeGee "Gweh" displays their vocals on this explosive dancehall riddim.
Tracklist:
Lady Saw – Scamma
Capleton – Stay Suh
Da Plan – Waste A Time
Bramma – Fashion Police
Ffurious – Out A Me Life
CeeGee – Gweh
Digital Vibez Entertainment – Hot Steel Riddim (Instrumental)