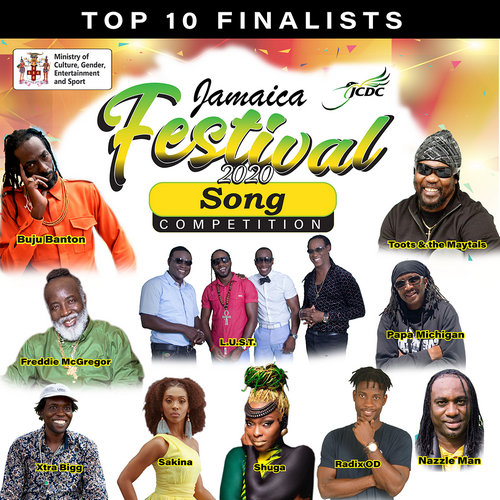 The Jamaica Festival 2020 Songs
Since 1966, the Jamaica Festival Song Competition has been cemented in the landscape of Jamaican Music Culture and today is the longest running original song contest in the island. The Competition has become a showground for aspiring artistes, songwriters and producers to showcase their talents and aims to identify a new and original song that is reflective of the spirit of the Jamaican people.
The Song provides a musical back drop for the annual celebration of Jamaica's Emancipation and Independence and should stir a feeling of celebration.
This year's crop of finalists boast several established acts:
1. Freddie McGregor – Tun Up Di Sound
2. Toots & The Maytals – Rise Up Jamaica
3. Buju Banton – I Am Jamaican
3. Papa Michigan – Festival Dance
4. LUST – Wave the Flag
5. Shuga – One People
6. Nazzleman – Jamaica Nice
7. Radix OD – The Place To Be
8. Sakina Deer – We are Jamaica
9. Xtra Biggs – Jamaica A Paradise
The other entrants are two-time Jamaica Festival Song winner Nazzle Man (Jamaica Nice); up-and-coming dancehall artistes Xtra Bigg (Jamaica A Paradise); Radix OD (Place to Be); and actress Sakina Deer (We Are Jamaica).
Buju Banton Wins Jamaica Festival Song Competition with "I Am A Jamaican"


To have your projects featured on Dancehallarena.com Please email us at Dancehallarena@gmail.com