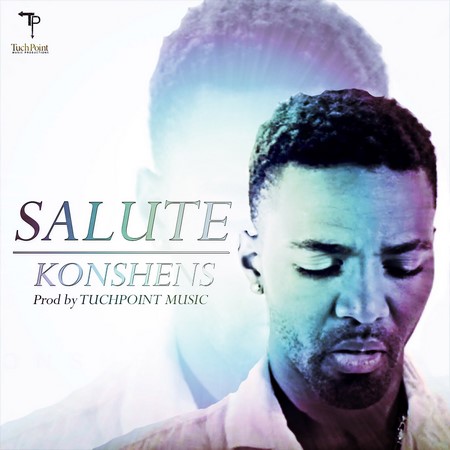 For his first music release of 2016 reggae superstar Konshens teams up with Grammy member and award winning music producer Emmanuel "TuchPoint" Aden to create "SALUTE"- a true musical example of raw emotions.
"SALUTE" packs a passionate sentimental wallop as it reminds us that life is short, and that friendships and family are among the most cherished treasures to appreciate while on earth.
Konshens offers a clear, poignant and yet dynamic tone on the "SALUTE" track. Paired with this song's melodic piano and driving kick drum, "SALUTE" is an entirely different song… stylistically speaking compared to recent songs released by this reggae superstar.
"I believe that what we've created with "SALUTE" will transcend race, age, gander, and will [literally] speak to listeners internationally in an powerful way," says song producer TuchPoint.
In anticipation of the songs impact, it is rumored that "SALUTE" may be part of an upcoming 2016 movie soundtrack… However, song producer TuchPoint wouldn't give us a confirmation on that- as he gave us a smile.
In the meantime, TuchPoint encourages the public to follow the social media hashtag campaign #iSalute.
Title: Salute
Artiste: Konshens
Genre: Dancehall
Label: Tuchpoint Music