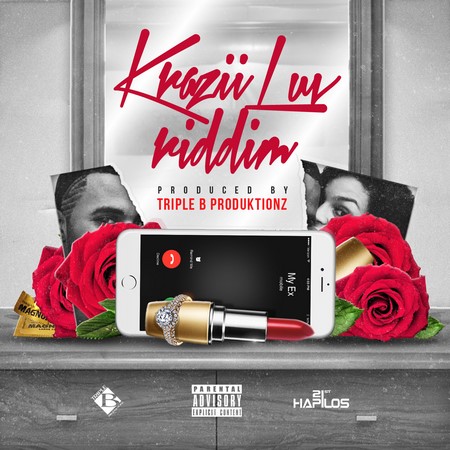 After such great feedback from the lead off singles in 2014 Triple B Produktionz has officially released the full length compilation to the Krazii Luv Riddim. With love as the theme these talented artists put their own unique spin with various topics creatively sung on the groovy medium tempo based reggae-dancehall beat; and they did not miss a beat. This project will ensure to set, maintain or up the mood in any room or setting.
The engineers credited on this project are Neutron from Time Unit Music, DJ Neil from Cashflow Records and Swagga from Studio Vibes Ent. the album cover was done by Lights Out Graphics.
Triple B Produktionz has again partnered with 21st Hapilos Digital Distribution for all online distribution while hard copies will soon be available and they will be distributed by Triple B Produktionz.
Tracklist:
Ras Xtr3me Ft Money Mekka – Tonight
Deep Jahi – Computer (Thumb Drive)
K Queens – Obssesed With Me (Raw)
K Queens – Obssesed With Me (Radio)
Jah Malo – More and More (Raw)
Jah Malo – More and More (Radio)
Branxx – Hotta Dan D'Rest
Advance – Pretty Little Lady (Raw)
Advance – Pretty Little Lady (Radio)
Jay A – Real Love
Dolli – Different Kind Of Love (Raw)
Dolli – Different Kind Of Love (Radio)
Jemineye – Nobody Else
Tanso – Yeah Baby (Raw)
Tanso – Yeah Baby (Radio)
Sany G – Illtreatment
Jinyus – Mommy Alright
Iceberg – Never Gonna Make U Cry
Tiyarro – Feels Good
IQ – Stick To Gyal
Triple B Produktionz – Krazii Luv Riddim (Instruemental)