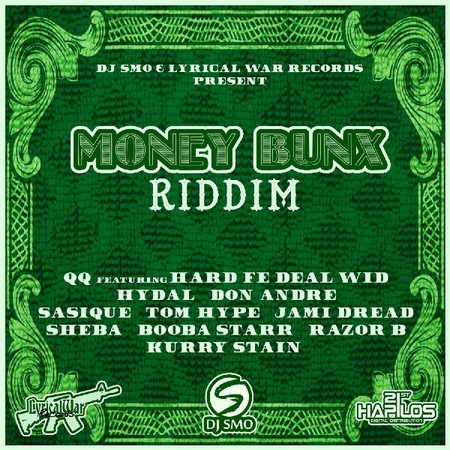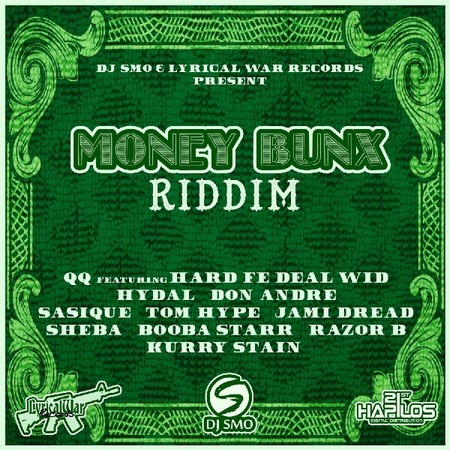 Lyrical War Records & 21st Hapilos Ent. proudly present the newest DJ Smo production & Dancehall phenomenon called "MONEY BUNX RIDDIM".
The album (Riddim Selection/Compilation) features 11 artists; QQ ft. Haad Fe Deal Wid, Razor B, Don Andre, Sheba, Kurry Stain, Sasique, Hydal, Jami Dread, Tom Hype and Booba Starr.
"Money Bunx", the lead single of the album, has already been tearing down the clubs worldwide, and successfully started a HYPE of people dancing the official "Money Bunx Step" – created by the Black Eagles Dance Crew – recording it on their cellphones, and later uploading their dance-clips on social media networks. Hundreds of videos have been circulating the worldwide web and we're happy to announce that the official video for the song will drop ASAP. —- MONEY BUNX RIDDIM definitely needs to be in your playlist if you're aiming to entertain a Dancehall crowd, especially if there are dancers present.
All Songs on the album, like Razor B's gallis anthem "Brand New Gal", Don Andre's "Right Here", Sheba's empowering "Grab Up", or rising star Kurry Stain's "Blow My Mind", just to name a few, as well as the hit song #MoneyBunx can be downloaded by clicking on the following link:
Download Link: http://itunes.apple.com/ca/album/money-bunx-riddim/id1027511667
Money Bunx Riddim Mix
http://youtu.be/smBRh9qHxVE
http://soundcloud.com/realdjsmo/money-bunx-riddim-megamix
Money Bunx / Instagram Phenomenon Video Part 1:
http://youtu.be/rd6Xtouzu80