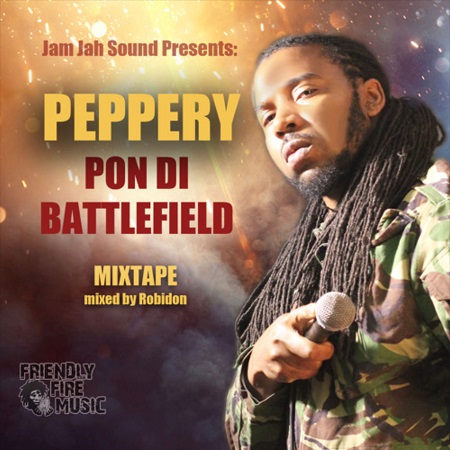 Peppery Pon Di Battlefield" mixtape is now on SoundCloud. A compilation of brand new materials, previously released tracks and dubplates. It is a mixture of reggae and dancehall with a bit of fusion, and no profanity, brought to you courtesy of UK-based soundsystem Jam Jah Sound.
This mixtape showcases productions from various countries including Jamaica: UK, France, Denmark, Africa, America, Czech Republic, Switzerland and New Zealand.
This is Peppery in undiluted form, collaborating with musicians from various walks of life and enjoying it.
Tracklist:
1. Intro
2. Jam Jah Culture (Dubplate)
3. Badda Than Dem
4. Skank If You Skanking
5. Yuh Nuh Bad
6. Perilous Time
7. They Don't Know Ft. Teban Cee
8. Jam Jah Battlefield (Dubplate)
9. Carry Go Bring Come
10. Jam Jah Powers Ft Al Campbell (Dubplate)
11. Attention
12. Love Me Back
13. How di place a run ft Timbali
14. Humanity ft Tippa Irie & Friendly Fire Band
15. I love to smoke Jam Jah (Dubplate)
16. Angel
17. Dead You Dead
18. Come to town Ft Dub Terminator
19. So Futuristic (Original Mix)
20. Mr. Dickinson
21. Facts of life ft.G Duppy & Mr Benn
22. More Cream
23. Tall Dark and Handsome
24. Heathen & Sheden
25. Represent
26. How We Do It ft BAzza Ranks & Wayne Lyrics
27. Working Class
28. Peppery – Everybody Ft. ODB & Blakkwuman22 Music
29. Eyes On Me – Ft. Ms. ColourColour
30. In Love with Love Ft. Miguel Baker
31. You Own The Man
32. Inna Yuh Blood
33. Excitment ft Glamma Kid
34. Naah Fren Dem (Dubplate)
35. Can't Touch Jam Jah (Dubplate)
36. Forever
37. Dominion
38. Sipple Out Deh Ft. Friendly Fire Band (Dubplate)
39. Love We Need