SANCHEZ – IN THE GHETTO – TRIPLE-T PRODUCTION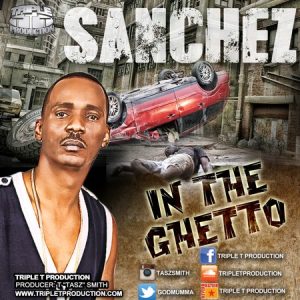 For the past few years the international reggae crooner has been delivering music sporadically, as well as a critically acclaimed album, but on his latest single titled "In The Ghetto", Sanchez wants his voice to be heard. The song is a departure from his usual romantic themes as Sanchez belts the familiar words "People, don't you understand the child needs a helping hand or he'll grow to be an angry young man some day Take a look at you and me, are we too blind to see, do we simply turn our heads and look the other way". Speaking of this latest endeavor, Sanchez explained "Every day I hear the news from home to abroad, and it seems like another person died in vain, so many angry people. I am hurting for humanity and the best way for me as a singer to have my say, is with my voice, with lyrics.", he further added "I grew up listening to this song, I even won an award and a standing ovation in school with my rendition. So when I received the riddim, the words came back to me, It made sense, a hurt child becomes an angry adult, and more often enough society turns a blind eye, especially IN THE GHETTO".
The single produced by Triple T Production will be available on all major digital markets by the end of the month. Triple T Production are responsible for acclaimed music from Natural Black, Luciano, Turbulence, among others.