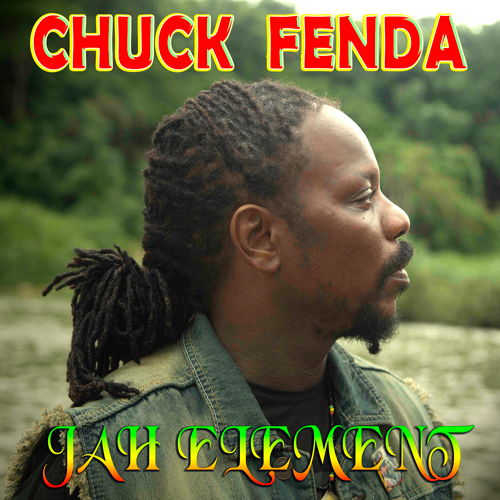 What happens when a veteran artist and a highly talented producer come together at the legendary Jammy's Studio with a group of stellar musicians? A fresh modern roots album entitled JAH ELEMENT on John John Records. Chuck Fenda's fiery lyrics combine with relic rhythms and Lloyd 'John John' James' production to bring a thoroughly conscious album to light. As Chuck proclaims in the opening track, None Shall Escape, "Judgement for the wicked, hot lava pon them", we know we're in for some fiery rhetoric from Mr. "Can't Cool, Can't Quench", aided by the ever-classic Johnny Clarke and produced by John John and 'Stryker' Lee. On Badness No Pay, Bounty Killer pays a visit to provide a DJ counterpoint to Fenda's melodious vocals and Leroy Smart's original chorus. Next Chuck instructs us to Cut Off All Ties with bad-minded and devious people, certainly good advice, given over a classic Jammy's rhythm.


Spiritual Warfare's classic rhythm serves as the perfect background for Junior Reid to join Fenda in highlighting the album's Waterhouse flavor. The title track is next, a powerful statement of Rastafarian beliefs. A touching, personal ode dedicated to his daughter follows in For My Daughter, mixed with some help fromTruckback Records' Steve Locke, who also is credited with mixing on Spiritual Warfare. John John gets some help from Ward 21's Suku when mixing It Pain Me.
The next track up, Hustle has such a rhythmic chorus you'll be singing it without realizing what you're doing hours later. Hurt Me Heart switches gears as Triple Ace aids on the mix, as he does on several other tracks. A romantic ballad, Sign and Seal, changes the vibe again with Steve Locke checking in as producer. Chuck's vocals are assisted by those of Angel Doolas on Foul Play. Track 12, Best in the World is a lovely and hopeful ode to Jamaica and its citizens. Next up is Warning on the Heart and Soul Riddim produced by Wayne 'Unga' Thompson of Notice Productions. Another James, this time Trevor 'Baby G' takes production credit on Man a Rasta, adding yet another dimension to the album. The first single from the album, Bun Up, spits fire, as the name suggests. Chuck next professes his belief in Miracles. Closing the album is a conversation between Fenda and a lady friend on Stop Worry, produced by DJ Frass, quite a hot item himself.
Musicians include Sly Dunbar, Squidly Cole, Kirk Bennett and Trevor 'Baby G James on drums; Chinna Smith and Courtland 'Gizmo' White
on guitar, Andre 'Spider' Dennis on keyboards. Fiona Robinson and Sherida Sharpe provide sweet backing vocals throughout. The album will be released September 10 and can be found on itunes and other fine retailers.