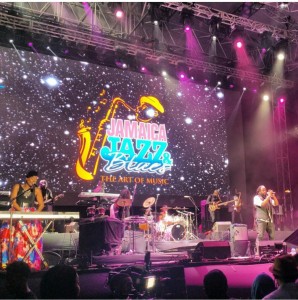 "Some people feel the rain. Others just get wet." Bob Marley
Despite the temperamental weather, the anticipated return of Morgan Heritage at the Jamaica Jazz and Blues Festival was by all accounts a huge success. Music fans of all walks of life gathered to witness the Royal family of Reggae for their renowned riveting performances.
No sooner had the siblings stepped on stage than the weather started to dim and a light rain fell upon the festival, but the fans were not moved by the slight downpour as they danced heavily and sang along to the group's soul-stirring songs such as Don't Haffi Dread and Down By The River. Unfortunately to the dismay of the crowd, Morgan Heritage's set was abruptly ended as the rain heightened.
Humbled and honored to share the same stage as Mariah Carey on their beloved island, Morgan Heritage mood was far from dampened by the weather. Speaking of the night, Mojo Morgan stated "Anytime you see that people are enjoying what you do regardless of the forces of nature, it tells you that you're doing something right. We are grateful to be blessed with some of the best fans in the world and their commitment to live Reggae music was on full display." Gramps Morgan chimed in "When the rain came down we saw it as a blessing despite we had such a show planned put the Jazz and Blues audience so we were cool in mind body soul and spirit we look forward to performing on jazz and blues again in the near future very near future hint hint".
The group is headed to Toronto, Canada to headline the February 6th show at the Sound Academy. "There is just something about Canada that appeals to us in a special kind of way. And we are really anticipating this performance on the birthday of Reggae King, Bob Marley. As musicians and reggae ambassadors, we must always remember and honour those on whose shoulders we stand," stated Morgan Heritage's youngest sibling, Mojo MOrgan.
Morgan Heritage Performing at Jamaica Jazz & Blues Festival 2015