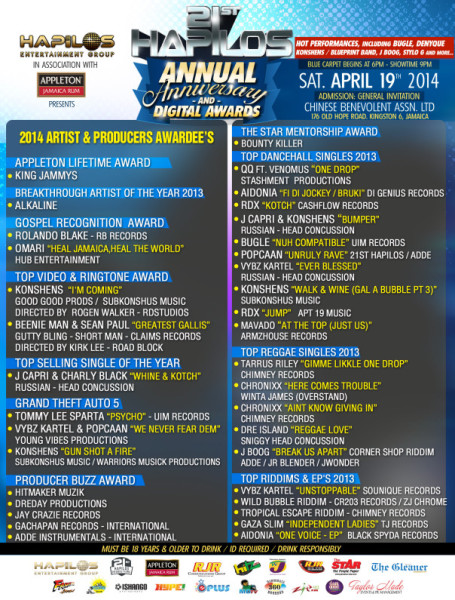 In 2011 Dancehall and Reggae digital distributor giants 21st Hapilos Digital created the coveted 21st Hapilos Digital Awards in order to reward and recognize excellence by artists, producers and record labels for their various achievements in the global digital market place.
21st Hapilos Digital Distribution emerged from the need for an avenue for local music to tap into the international market. The distribution of music was evolving and 21st Hapilos saw digital distribution as the future of music distribution. The company's goal is to open up markets and help take Reggae and Dancehall music to the heights which it has never been taken before while administering the services needed by the clients to facilitate that journey.

Mr. Johnny Wonder, Executive Vice President, 21st Hapilos Digital was on hand in Jamaica to distribute the digital awards. "On behalf of myself and the entire 21st Hapilos staff, we would like to thank all the artists, producers, ZJs, DJs and industry insiders for the overwhelming support with the distribution of the 21st Hapilos Awards we love and support all our real supporters. We see you all believe me. Although there are many of you to thank, I would especially like to recognize Anju Blax, Elvis (So Unique Records), Rvssian (Head Concussion Records), David and Jordan (Chimney Records), Teflon & Zinc fence Records, Dre Island, Popcaan, Jamie YVP, ZJ Chrome, ZJ Liquid, Elephant Man, Bounty Killer, Kirk Lee & Road Block Films, Ruption (RD Studios), Venomus, QQ, Stashment Productions, Tashana BooBoo Perry, Overstand Entertainment, Alkaline, Dre Day productions, Adde Productions, J Boog, Tarrus Riley, Markhize (Subkonshus Music), Konshens, Subkonshus Music, Sensi (Head Concussion Records), Sniggy (Head Concussion Records), Consi The Crime Minister, J Capri, Chronixx, Vybz Kartel, Short Boss Muzik, Hitmaker, Mavado, Armz House records, General Rado (Armz House Records), Gutty Bling & Shortman,, Black Spyda records, Gachapan records, Dameon Gayle, Bugle, vanessa Bling, TJ Records, Delomar (RDX), Renigade (RDX), Neil (Cash Flow Records), XtremeArts, Tommy Lee Sparta,King Jammys, Stephen "Di Genius" Mcgregor, Aidonia, Lalo & The whole JOP Crew, I am sure that I forgot some names, but just know that we recognize you as well and thank you for your support and musical contributions".