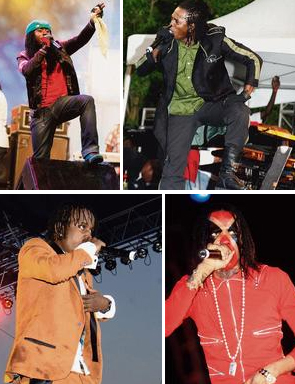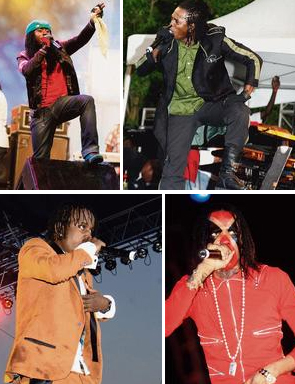 As the Christmas season approaches persons within the dancehall community are currently looking forward to musical confrontation among artistes. However it seems as if there is very little to no action going on as there isn't much talk of lyrical fueds.
When THE STAR spoke with selector Boom Boom, he said he hasn't heard much with the exception of something that seems to be brewing between Tommy Lee Sparta and an upcoming artiste called Gage.
"Mi woulda seh Gage and Tommy Lee the people dem waan see at Sting. Tommy Lee a seh Gage a tek weh him voice. A just the two a dem a war, the big guns nuh shub out as yet," he said.


While no names were called, Gage, whose voice sounds similar to that of Tommy Lee, did a song called Dead. Tommy Lee also had a song called Nuh Mek Mi Feel Suh, which sounds like a counteraction to Dead. In the song, Tommy Lee says, "some … betta knock off a mi ego/ Mi a di real Tommy Lee, dem a di fake knock off marina."
But one 'big gun' that is known for his lyrical prowess during clashes says he is focusing on other things. When contacted, KipRich said he was currently promoting songs like Nah Come Back, Bounce and Love Chain.
"No war thing nah brew at the moment. Mi just deh ya a gwaan look and see weh di season a deal wid. Most man 'cause dem see the season a come up dem want a hype," said KipRich, who has won clashes at Sting on a number of occasions.
"Mi nah go just tek up any war pon mi head. The price haffi right and the status of the individual haffi right. It haffi beneficial to me. Mi nah go get stuck inna da war vibe deh. Mi need fi have some song fi please the people, and try get in some more a dem song deh so mi can continue touring when December pass."
Isaiah Laing, promoter for the Sting stage show that is known for its yearly clashes, had very little to say on the matter. Stressing that this year will mark the event's 30th year, he said, "this year we going international, taking it to a different level. Just niceness over there this year."
According to DJ Smurf, clashes are now somewhat played out. He even made reference to KipRich, who has said his focus is more on songs that have a broader appeal than 'war' songs.
"I don't hear anything, so at this time I can't say it is going to be a war Christmas. Give it a month or so and some big names might start. That (clash) kinda get played out now. Maybe the artistes not planning to do anything like that 'cause it kinda get played out and predictable. It is still early days," he told THE STAR.
He did, however, note that Gage was throwing punches at Popcaan and Tommy Lee Sparta recently. He said there was also some minor word-throwing between Popcaan and Quick Cook.
Dancehall artistes Khago and Laden are also involved in some heated war of words, following Laden's release of Google Bad Mind, featuring Benji, which is said to be aimed at Khago.
Khago released a counteraction called Missa Nyam Suh, in which he fires several lyrical shots in the direction of Laden, who responded to Khago's counteraction with Nuh Joke – poking fun at Khago's threesome song and his fallout with Downsound Records.
Khago has already counteracted Laden's No Joke with an explicit single called Missa/Chalk Him Out.