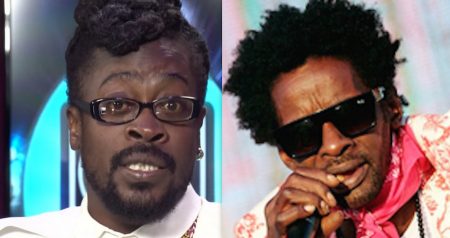 Everybody is talking about how Gully Bop run Beenie Man off the Stage at Ninja Man's Birthday Party. The video has already gone viral on Facebook & Youtube. Dancehall fans have been calling it disrespectful and referring to Gully Bop as being too Hype. Gully Bop, who went on stage during Beenie Man's performance and then summoned him to leave.
"Beenie Man, Beenie Man, bye. A padlock time now," Bop told Beenie.
But the 'King of the Dancehall' did not take too kindly to this as did the audience who could be heard sending a few "booos" towards the stage.
"Gully Bop a weh yaah do, a run yaah run me offa di stage?" an irate Beenie Man asked.




"Gully Bop a 30 years me a do music. Yuh come inna dis come see me. Me no yuh girl, me no yuh son, watch yuhself," Beenie added.
And even though Beenie did not hesitate to set Bop straight, his manager still believes that an apology is warranted.
"He (Bop) came to the show him neva have a rhythm, him neva have a track. That means him neva come to sing. And Beenie go out there and do him ting and was disrespected. Even the promoter supposed to apologise too," Smith told the STAR.
But even though Bop did not forthrightly say, "I am sorry", he and his team are adamant that Bop would never disrespect Beenie.
" Gully Bop has a very high level of respect for Beenie Man. He meant no disrespect at all. In music, there are three persons that Gully Bop looks up to Beenie Man, Ninjaman and Bounty Killer. I think it was a misunderstanding," said Karl Durrant, Bop's manager.
Like his manager, Bop assured the STAR, that he did not intend to disrespect Beenie Man.
"Beenie a me friend and me general, me woulda never try disrespect him. Me no know why him pree it dat way," Bop said.
WATCH VIDEO BELOW