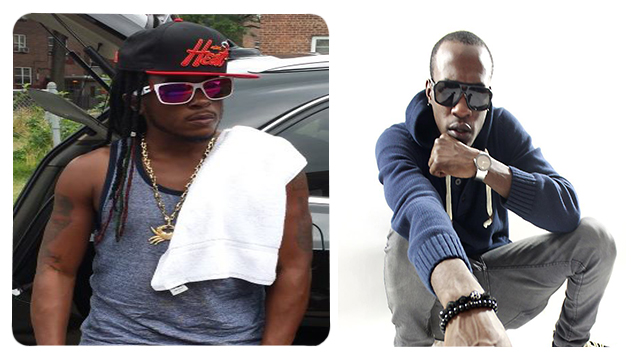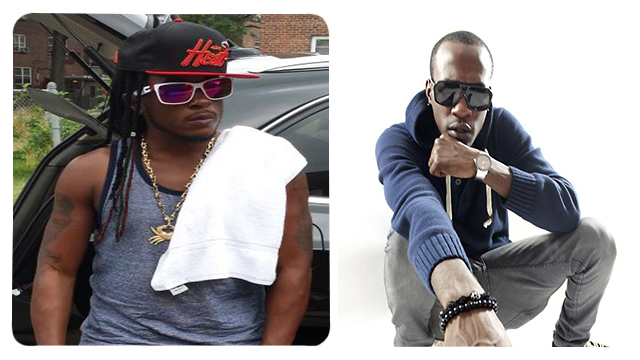 Dancehall artistes Khago and Laden have started a Lyrical war just less than 100 days before Sting. Dancehall fans are now anticipating a showdown at this year staging of Sting 2013 between both artistes. The lyrical confrontation started when Laden released a diss song titled Google Badmind featuring Benji, which is said to be aimed at Khago.
DOWNLOAD LADEN FT BENJI – GOOGLE BADMIND (KHAGO DISS) / RAW & CLEAN


Khago's name was not mentioned in the song, however, the artiste swiftly released a counteraction called Missa Nyam F**k, in which he fires several lyrical shots in the direction of Laden.
"Mi google house and fi him and a Stephen dog house come up, ambition and a cruff come up. Ooii deh Missa Nyam Suh di wholla junction a talk sey yu nyam suh, Ooii deh Missa nyam suh, Stephen give him back di key to the dog hut … badmind yu fi wah? Afta yu nuh have nuttin not, even the shirt wey yu a button, cause a Chino deh mind yu, mine him a whine yu. Yendi muss know something inna something,"Khago sings.
DOWNLOAD KHAGO – MISSA NYAAM F**K (LADEN, CHINO & STEPHEN DISS)
Laden has since responded to Khago's counteraction with an effort called Nuh Joke in which he pokes fun at Khago's threesome song and his fallout with Downsound Records.
"Wi google badmind a di cap fit him, all him madda wey birth him is not with him. Him a train fi badmind him practising, anytime Sizzla hold him every locks missing. Dem run yu from Downsound dat couldn't be me, yu lyrics dem a analog fimi dem a 3D. Scatta dis yu pon TV and bruck yu CD,"Laden responded in his song.
DOWNLOAD LADEN – NUH JOKE (KHAGO DISS)
According to Laden, Google Badmind did not mention Khago's name, but members of his team took offence and released a counteraction.
"The song was done to take over the streets, so me a tek it to the streets. Who the cap fit mek dem wear it, and they love to wear cap so mek dem gwaan wear it," Laden said.
Laden also disclosed that he and Khago were never friends and said a music video will be released for Google Badmind in coming weeks.
In a release sent to The STAR, Khago expressed that Laden simply wanted a hype by throwing (lyrical) shots at him.
"Me no have no microchip in no man mind. Him claim say a eight years now him have things fi say and him just feel fi talk back now and him deh round Big Ship from when a voice. Why a now him a choose fi say things?," Khago questioned.
Growing Popularity
Khago believes Laden's grouse against him came in wake of his growing popularity in St Elizabeth, which is Laden's home parish.
"Yu know what, a because me open a bar and gym in Junction, St Elizabeth, and di people dem say him buss four years before me and still no do nutten in a Junction. Laden a carry a bad vibe since Khago sign up-and-coming dancehall/reggae artiste Vigilant to the forefront. Laden a try look a forward from Khago's career," he said.
Khago has already counteracted Laden's No Joke with an explicit single called Missa/Chalk Him Out.
The Nah Sell Out singjay is currently promoting Gal Dem Nuff which features Vigilant. Laden on the other hand is promoting a female dance song called Dip and Come Up.
Who Do You Think Is Leading The Clash? Leave Comments Below