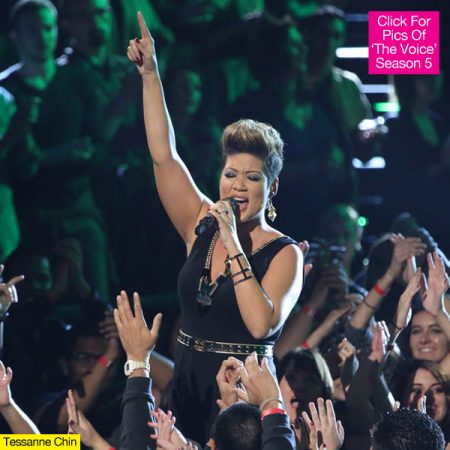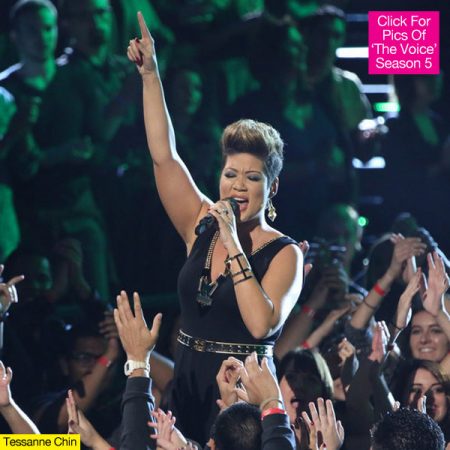 With the entire season at stake, Tessanne Chin had one last opportunity to prove that she was indeed The Voice.
After months of intense preparation and incredible performances and with only Will Champlin and Jacquie Lee standing in the way of her victory, Tessanne dominated the final live performance show last night.
For last night's show, Team Christina Aguilera and Team Adam Levine's remaining acts sang one new song, a duet with their coach, and reprised the blind audition song they previously sang that gave them a true moment in the competition.


Her performance of Try was gorgeously done and may even have been better this time around. Coach Adam Levine opined that Tessanne nailed it once again and that she was one of the biggest singers not only on the show, but overall and quite deserving of winning the competition.
"Everything you do just draws me in. Your ability is extraordinary and I revel in it all the time. I think the talent you have is exceedingly rare. You are one of the most genuine and loving people I have ever met," Levine stated.
There was also a light moment as a fan tweeted to Adam if he had picked up the Jamaican accent from spending time with Tessanne. "No mon" he jokingly replied.
The seductive duet with Adam created a social media firestorm. Both clad in black and white, the duo delivered an emotional rendition of The Beatles Let It Be. Adam sprinkled nothing but soul with the guitar he used during the performance. The duo also added a reggae vibe to the song much to the delight of fans.
"Tessanne you and Adam won The Voice beautiful duet hands down.", "Such a beautiful spirit, I loved it.", "U got my vote", "Adam and Tessanne's duet was the best of all three." and "Tessanne is the most talented" were just some of the tweets making the social media rounds.
Even British journalist Piers Morgan joined in with a Jamaicanised tweet of "Beat dem bad Tessanne."
For her final performance of the night, Tessanne once again left the audience speechless. Her rendition of Whitney Houston's I Have Nothing was flawless, effortless and amazing.
"I have no thoughts right now, just emotions. I keep being thrown off kilter by how you do this. That song was almost impossible to replicate and each time we have to ask where is the ceiling for Tessanne. You continuously blow me away. I know in my mind and in my heart you are the winner of this show," Adam stated.