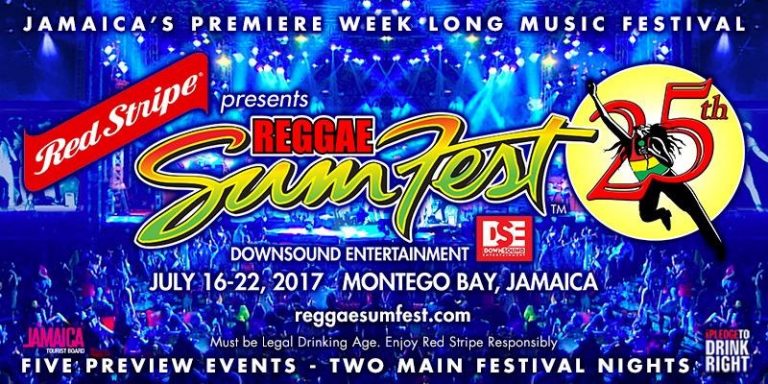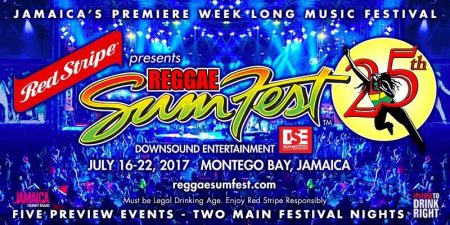 EARLY BIRD TICKETS AVAILABLE NOW…SAVE!
Red Stripe presents Reggae Sumfest 2017 ….The 25th Edition of this premier global music festival celebrating Jamaican music and culture. DownSound Entertainment Ltd of Kingston, Jamaica, is the promoter and producer of Reggae Sumfest. Our friends at Red Stripe Beer are now our presenting partner for this historic festival. We also thank the Jamaican Tourist Board for their continued and unflinching support , and also wish to thank all the hotels and businesses and vendors in Jamaica and around the world that help make this important and storied festival survive and thrive. Sincere thanks to all from all the team at DownSound Entertainment Ltd , and let us all make Reggae Sumfest 2017 a year to remember. Go to "reggaesumfest.com" for more information.
ALL ONLINE SALES IN $USD . LIMITED QUANTITY OF ONLINE EARLY BIRD TICKETS….SALE ENDS APRIL 30.
ALL OTHER EVENT TICKETS GO ON PRE-SALE MAY 1, 2017
All Ticket Sales are Final and Non-Refundable. Must be Legal Age to Drink . Enjoy Red Stripe Responsibly.




To have your projects featured on Dancehallarena.com Please email us at Dancehallarena@gmail.com