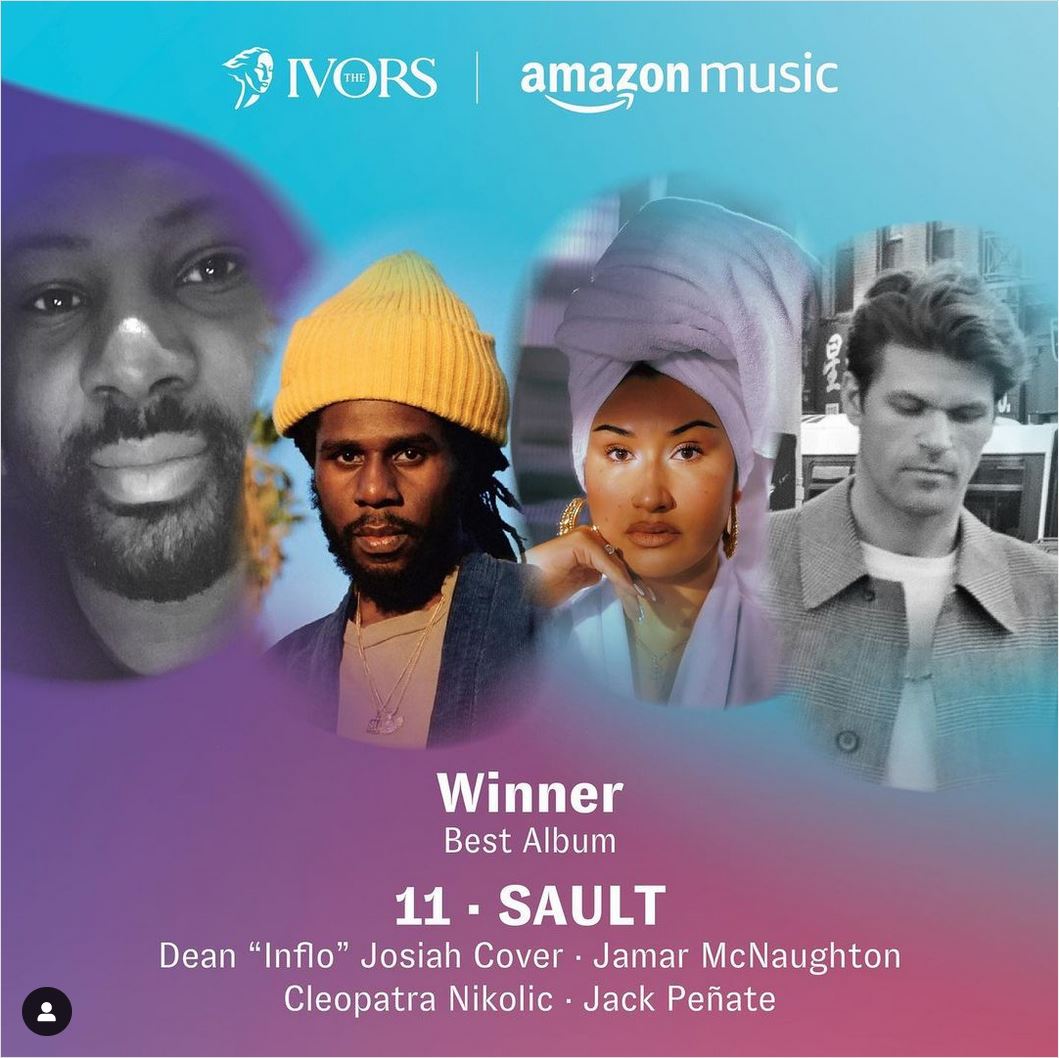 "Chronixx Wins Ivor Novello Award for Collaboration with SAULT on Acclaimed Album"
Reggae and Dancehall sensation Chronixx has added another prestigious accolade to his collection, as he was honored with the Ivor Novello Award for his contribution to the 11 album by British funk band SAULT. Alongside his SAULT co-writers Dean "Inflo" Josiah Cover, Cleopatra Nikolic, and Jack Peñate, Chronixx received the Best Album prize at the Ivor Novello Awards ceremony held in London on May 18, presented by the Ivors Academy in partnership with Amazon Music.
The Ivors Academy, now in its 68th year, bestowed the award upon Chronixx and his collaborators among 30 other talented songwriters and composers, recognizing their outstanding achievements in the field of songwriting and composing. The Ivor Academy highlighted the Afrobeat and blues influences in the critically acclaimed album 11, which was one of five releases by SAULT made available for free in November 2022. Notably, Dean "Inflo" Josiah Cover's win marks his fourth Ivor Novello Award, signifying a significant milestone in his career.
SAULT's 11 album, released alongside Today & Tomorrow, AIIR, Earth, and Untitled (God), was made available for download for only five days through a password-encrypted link. Described as an offering to God, these albums showcased SAULT's distinctive sound and style. Chronixx's collaboration was featured on four tracks from the album: Fear No One, Morning Sun, Glory, and River.
View this post on Instagram

The Ivor Novello Awards are widely regarded as the most prestigious music awards for songwriters and composers. As the biggest celebration of creative excellence in British and Irish songwriting and screen composition, the awards have recognized renowned artists such as Adele, Stormzy, Cathy Dennis, Little Simz, Annie Lennox, Amy Winehouse, Dave, Paul McCartney, John Lennon, and Joan Armatrading. The Ivors Composer Awards, presented alongside The Ivors with Amazon Music, celebrate creative excellence in classical, jazz, and sound arts, acknowledging the achievements of talented contemporary composers in the UK.
This year, the Ivor Academy honored British singer Sting with the Fellowship of the Academy and Amazon Music, the highest honor bestowed by the Academy. Sting, a close friend of Dancehall superstar Shaggy, received the prestigious award, joining the esteemed roster of songwriting greats.
SAULT, described as an enigma, has captivated audiences with their diverse musical range, spanning classical, soul, post-punk, and R&B. The collective's mysterious and anonymous nature adds to their intrigue, as they prefer to let their music speak for itself, eschewing interviews, music videos, and live performances. Operating primarily through word-of-mouth and relying on their dedicated fanbase, SAULT has gained recognition purely through the quality of their music and occasional online releases.
Chronixx's collaboration with SAULT on the 11 album has not only earned critical acclaim but also the esteemed Ivor Novello Award, solidifying his position as a remarkable artist within the music industry.