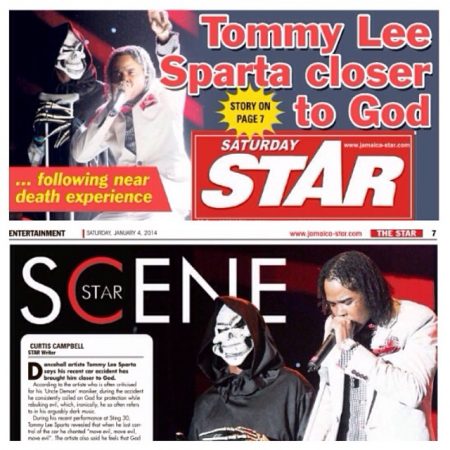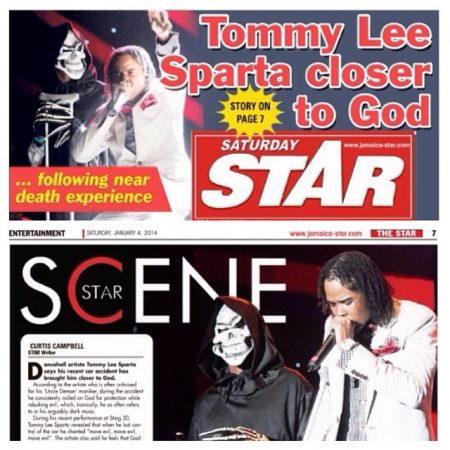 Dancehall artiste Tommy Lee Sparta says his recent car accident has brought him closer to God.
According to the artiste who is often criticised for his 'Uncle Demon' moniker, during the accident he consistently called on God for protection while rebuking evil, which, ironically, he so often refers to in his arguably dark music.


During his recent performance at Sting 30, Tommy Lee Sparta revealed that when he lost control of the car he chanted "move evil, move evil, move evil". The artiste also said he feels that God sent angels to save his life from the wreckage.
Tommy Lee disclosed to the thousands of attentive patrons at Sting that he grew up in church and that he loves God. He also said his Uncle Demon moniker should not be taken literally, and is merely part of his entertainment act.
"Bounty Killer name Killer but him neva kill a man from him born," Tommy Lee said. He also mentioned other popular dancehall monikers like Aidonia's 'Lord Evil' and Vybz Kartels 'Daddy Devil' which he says are nothing but fictitious dancehall characters.
Mi thank God fi life
"Thank God mi alive youth, mi feel like cry dog mi a tell yu. Mi nuh know a wah this but mi glad mi have life, yu see mi … Mi thank God fi life, mi is a youth wey believe inna God, mi grow up inna church, nuh because yu hear mi sey Uncle Demon. Mi a serious youth, mi nuh tek dis and mi nuh give trouble, mi a good youth mi nuh even guh out because mi nuh wah people fi know sey mi a good youth," Tommy Lee Sparta said.
Tommy Lee Sparta also took the opportunity to ask the United States Embassy to consider giving him a visa. According to the artiste, he is trouble free and he wants to earn a living to take care of his family.
"Mi wah guh America to represent. Anybody who work with the embassy have little pity on mi and give mi a visa mek mi guh mek money fi mi family," the dancehall artiste said.