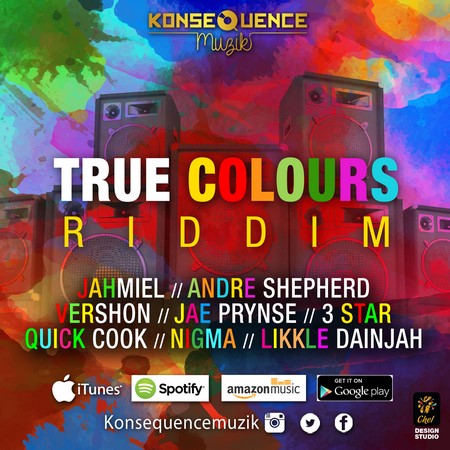 Canadian based music group, Konsequence Muzik continues to dominate 2015, this time with the release of the True Colours Riddim.
The project featured artistes such as Jahmiel, Andre Shepherd, Vershon, 3 Star, Quick Cook, Jae Prynce and many more .
The label reaches out to Jahmiel for the song True Colours and Andre Shepherd for his song Covered, arguably two of Jamaica's finest vocalists, who delivered superbly.
True Colours Riddim is an upbeat up temp one, and got its name from Jahmiel's song "of that same name. The rhythm has received great reviews since its release both locally and internationally.
The songs are available for purchase on all digital platforms to include iTunes, Spotify, CD Baby, Amazon Music and Google Play.
The difference with this project is the universal message that it is sending out that everyone and anyone can relate to.
Andre Shepherd has this to say about his song Covered. "The song speaks to everyone. We all can relate to the song and most importantly it affirms the fact throughout whatever we are going through, we are all covered by the most high. The music is upbeat and creates a spirit of hope and this song encourages us to always be optimistic and proactive."
Jahmiel is also very pleased with the song and anticipates that it will be a success.
"I have no doubt that this entire project will be successful. So far I have been getting a lot of positive feedback from this song and I know it can only better from here. "
CEO of Konsequence Muzik, Mr. Peart says that he hopes to get the company and the rhythm the much deserved attention with this project.
The label has put out quite a number of notable songs since its inception to include Versatile "Work Flow" & "Summa Escape Riddim, Jah Vinci "Be Strong", Exco Levi "IF You Wanna Leave", Melloquence "Beautiful Distraction" and Khago "Nuh Fi Legalize."
For the rest of the year Konsequence Music will be busy working on numerous projects for their growing fan base.