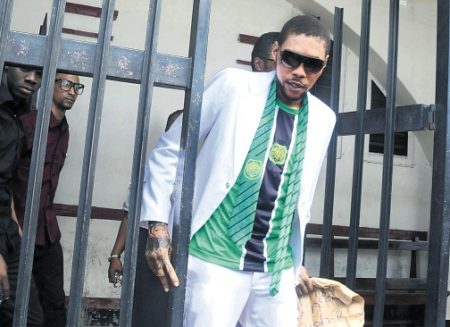 ATTORNEY Tom Tavares-Finson has denied information in yesterday's Sunday Observer article that outlined that convicted entertainer Vybz Kartel gave the police information that led to the apprehension of wanted men and the recovery of 17 firearms.

The attorney also rubbished claims made by the police that Vybz Kartel was an influential figure in the deadly Spanish Town-based Klansman Gang, and that the gang carried out killings on his behalf.
"That is nothing but further propaganda by the police," said the senior attorney, who described the police's comments as "highly irresponsible".
"The presentation by the Observer yesterday reflected just another attempt by the police and the Office of the Director of Public Prosecutions to prejudice the appeal of Mr Palmer," Tavares-Finson said."We note that the source of the information is reported as being anonymous, but we recognise the hand of a particular individual at the Corporate Communication Network," Tavares-Finson added.
The article said that Vybz Kartel (real name Adidja Palmer) had met with the police to give them information when he realised that detectives were closing in on him for the murder of associate Clive 'Lizard' Williams, in August 2011, over the disappearance of two illegal firearms.
"No meeting was ever held between Mr Palmer and any police officer nor was Mr Palmer ever asked by any police officer to give them any information. That is a lie," the attorney said, as he disputed other assertions made in the front page article.
Additionally, Tavares-Finson noted that the article reported the police source as saying that the police had evidence that was not used in the five-week trial. He said he's hearing about the so-called further evidence for the first time, and that the director of public prosecutions should say why that evidence wasn't put before the court.
Vybz Kartel, Shawn 'Shawn Storm' Campbell, Kahira Jones and Andre St John have been sentenced to life imprisonment for Williams' murder. They are to serve 35, 30 and 25 years behind bars before being eligible for parole.
Yesterday, Tavares-Finson told the Observer that the men have signed their appeal documents which are to be filed with the Court of Appeal.
"We are confident that we will, regardless of the machinations of the police, get a fair hearing at the Court of Appeal," Tavares-Finson said.