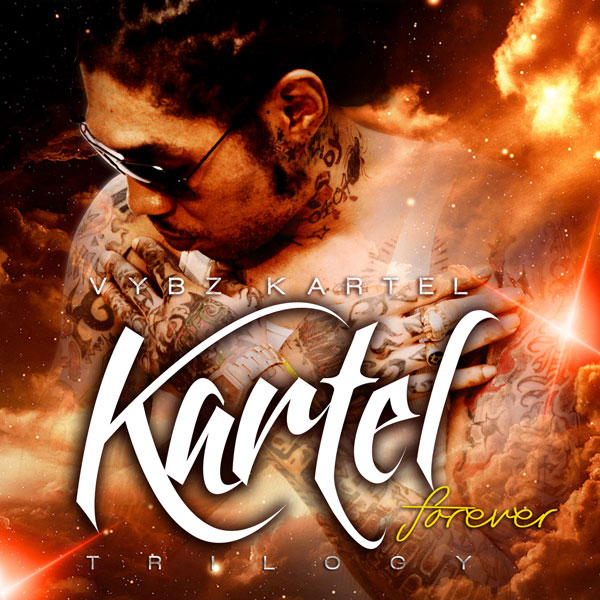 Hailed as the undisputed World Boss of the dancehall genre, this marks a highly-anticipated, full-length, physical album and international release from the controversial artist, who remains incarcerated in his homeland Jamaica.
Celebrated and polarized for his stimulating lyrics and provocative ploys on and off stage, there is no doubt Vybz Kartel is a defining thread in the fabric of dancehall and indeed, this massive collection proves to be dancehall music in its ultimate form.
Kartel Forever: Trilogy boasts 60 tracks on the three-disc album, including previously unreleased singles and numerous hits from recent years. Kartel is determined to stay atop his dancehall throne and keep his fans satisfied until his inevitable return to the studio to make music for the masses.


"I want to thank all my supporters for your love and unfailing support throughout these trying times," says Kartel.
"Even though I am incarcerated, I am still up to the time. This album shows that I get stronger with each passing second. Tad's plus Adidjaheim Records is a sick formula and the result is Kartel Forever: Trilogy. Worl' Boss fullstop!" With the slew of songs, Kartel currently has on the streets in Jamaica and on reggae specialty programming worldwide, Kartel Forever: Trilogy provides a vivid kaleidoscope of his continued evolution as an extraordinary artist. Despite the geographic limitations of the artist, his music speaks volumes, as is evident from his continued surge in popularity, especially over the past two years.
Pre-orders Available right now! Album officially in stores September 24, 2013.