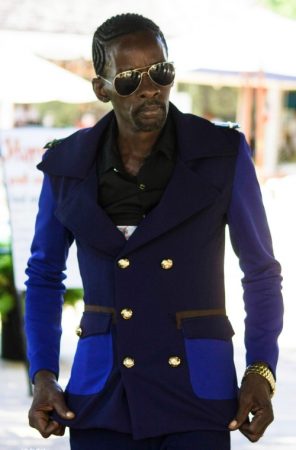 Accomplished publicist/manager/ director/producer Karl Durrant says his recent car accident has shaken him to his senses. According to Durrant ever since he started working with Gullybop in December 2015 he has had a series of unforeseen problems which he says can only be described as a sign from god to both drop Bop and also change his life.
"Sunday morning I was heading home when I blacked out and crashed. The car hit a rock and flipped twice before coming to a stop on the edge of a junction gully and I said to myself that this is the closest I am going to any gully as of today. The thing is this from Gullybop ask me to manage him is like a tornado pass through my life and business. My show in December rain out, January a pure mix up due to the padlock thing, February me lose crazy money, March me and my fiancé break up and April me crash. Honestly me rate Gullybop but I am not sticking around to see what happens next" Durrant stated.

He went on to say that there were business related problems which he says made Gullybop a liability. "I have been in music 10 years now and I have worked with well over 50 artistes but Gullybop is a different case. Gullybop is unmanageable when I get him shows he spends money as if he is rich and he refuses to save which is why he is broke today and then he expects me to pay for his habbit and lifestyle. Gullybop mash up him two vehicles plus three rentals and he is renting cars daily to impress the groupies who do nothing but con him out of the little he has left. I know he is on drugs but refuses to admit it and get help but he is costing me too much money and problems for me to continue working with him". Durrant stated.
When asked about the latest situation between Gullybop and A'Mari, Durrant said that Gullybop did not even tell him that he was going to New York despite the fact he was the one who actually brought him to the airport to depart for a tour of St.Kitts and Nevis.
"I sent GullyBop, an opening act and a road manager to St.Kitts and Nevis for a show on the 9th of this month and I have not seen or heard from him since, despite the fact that he borrowed money from me four times before leaving for the tour and I was the one who even took them to the airport. I have not even received my 15% booking agent fee or the money he owed me previously, not even the road manager get paid. Gullybop went behind my representative's back and collected the balance of funds from the promoter and flew to New York after the show to be with A'Mari and then I heard that A'Mari had his one tooth removed after which she disgraced him on radio and kicked him out of her home. A friend of mine in New York called me laughing Bop to scorn saying that Gully bop is in big NYC without a tooth or a dollar. He is making a fool of himself and refuses to work on new music so honestly he is a waste my time. I am still here because god has a profound purpose for my life and Gully bop is not a part of that plan. Durrant stated.
To have your projects featured on Dancehallarena.com Please email us at [email protected]